Schwartz Center Members
The Corman IMPACT Honors 
About The Corman IMPACT Honors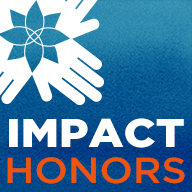 Innovative Member Programs Advancing Compassion and Teamwork
The Corman IMPACT Honors celebrates healthcare members who are making a transformational impact by creating programs or initiatives that promote compassionate, collaborative care within their organization or system.
We know that leading by example is the most effective way to inspire others to make compassionate care a priority and we want to recognize our healthcare members who are doing that.
Recognition and Submissions
We appreciate your dedication to Schwartz Rounds and the difference the program makes, and we know many members may be doing more to move the needle of compassionate care. If your organization is doing things differently and changing the way caregivers and patients give and receive compassionate care, we want to recognize your work and share it with our member community.
All program submissions will be highlighted throughout the virtual Compassion in Action Healthcare Conference, on our Member Community website and Schwartz Center materials.
Up to three exemplary programs will be featured on the Conference website and a spokesperson from each of the selected member sites will have the opportunity to participate in a video interview about their program and how it has made an impact on their organization.
The 2020 submission period is now closed. We're in the process of selecting the honorees and will be in touch regarding all submissions in the coming weeks.
Read about the 2019 Corman IMPACT Honors honorees and submitted programs and initiatives.
If you have questions regarding the Corman IMPACT Honors, please contact Christina Parks at cparks@theschwartzcenter.org.
The Corman IMPACT Honors are made possible through the generous support of Stephen Corman in memory of his late wife, Betsy. Mr. Corman's underwriting of the IMPACT Honors reflects his belief that leading by example is the most effective way to inspire others. It is his sincere hope that healthcare organizations are inspired by these honorees to find ways to make compassionate care a priority at their institution.
IMPACT Honors Criteria and FAQs