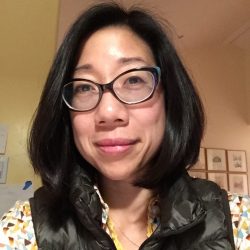 Events:
Tuesday
11:20 am - 12:35 pm
Visual Storytelling: Using Cell Phone Images to Reflect and Expand Tolerance for Ambiguity
Yeuen Kim, MD, MAS
Clinical Assistant Professor, Stanford University School of Medicine
Yeuen is from Boston, N.Y., San Francisco, and Seoul and grew up with mostly architects and music educators.  She trained at Brown University's Program in Liberal Medical Education, completed a medicine residency at the Santa Clara Valley Medical Center, and has worked with vulnerable populations across the San Francisco bay area.  As a clinical assistant professor (affiliated) at Stanford University School of Medicine and the Palo Alto VA, she has focused on homeless outreach, population health, and medical humanities.  She is currently measuring the effects of narrative medicine, docent-led art gallery tours, and cell phone images on reflection, observation, and communication skills among trainees and faculty.