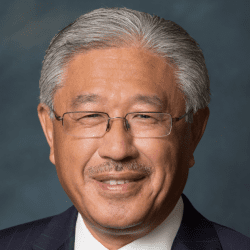 Victor J. Dzau, MD
President, National Academy of Medicine
Victor J. Dzau is the President of National Academy of Medicine (NAM) and Vice Chair of National Research Council. He is Chancellor Emeritus and James B. Duke Distinguished Professor of Medicine at Duke University and former CEO of the Duke University Health System. Previously, Dr. Dzau was Hersey Professor and Chairman of Medicine at Harvard Medical School's Brigham and Women's Hospital, as well as Bloomfield Professor and Chairman of Medicine at Stanford University.
He is an internationally acclaimed leader and physician scientist who has made a significant impact through his seminal research in cardiovascular medicine. His important work on the renin angiotensin and vascular biology paved the way for the contemporary understanding of cardiovascular disease. He pioneered gene therapy for vascular disease and was the first to introduce DNA decoy molecules as gene therapy in humans. His pioneering research in cardiovascular regeneration led to the Paracrine Hypothesis of stem cell action and the therapeutic strategy of direct cardiac reprogramming.
Dr Dzau serves as the inaugural president of NAM, transitioning from Institute of Medicine, and leads a strategy of innovation, action and equity. He designed and led important initiatives such as the Global Health Risk Framework; the Human Genome Editing; Emerging Science, Technology and Innovation and the Grand Challenge in Climate Change and Human Health & Equity, and Redefining Academic Medicine. Of relevance to today's lectureship is his co-founding and leadership in the NAM Action Collaborative in Clinician Well Being and Resilience which he co-chairs with US Surgeon General Admiral Dr Vivek Murthy.
Among his many honors and recognitions are the American Heart Association Research Achievement Award, the Max Delbruck Medal from Germany, Gustav Nylin Medal from the Swedish Royal College of Medicine, the Ellis Island Medal of Honor, the Poulzer Prize of the European Academy of Sciences and Arts, and the Henry Freisen International Prize. He has been elected to the National Academy of Medicine, the American Academy of Arts and Sciences, the European Academy of Sciences and Arts, UK Academy of Medical Sciences, the Japan Academy, Mexican Academy of Medicine, Chinese Academy of Engineering and Academia Sinica. He has received 16 honorary doctorates.