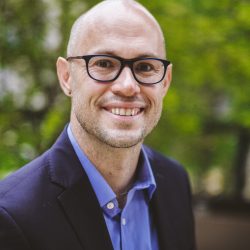 Tim Cunningham, DrPH, MSN, RN
Corporate Director of Patient and Family Centered Care, Emory Healthcare
Tim Cunningham, DrPH, MSN, RN, never thought he would become a nurse. His first passion was in the performing arts—theatre, clown, dance and acrobatics. He worked as an actor for nearly a decade in various regional theatres in the U.S. and internationally. It was through those experiences that he began work with Clowns without Borders (CWB) in 2003. A small non-profit, CWB sends professional artists into war zones, refugee camps and other zones of crisis with the simple mission of catalyzing laughter and playfulness. Cunningham has performed in more than 20 countries outside of the U.S. with the clowns, served for five years as the executive director of CWB and now sits on their Board of Directors. It was working as a clown in a pediatric ward in pre-earthquake Haiti and then joining the ranks of the Big Apple Circus Clown Care Program at Boston Children's Hospital that inspired Cunningham to study nursing.  
In 2009, he began work as an emergency/trauma nurse. Cunningham has worked at the UVA Health System, Children's National Medical Center and New York Presbyterian, Cornell, in both adult and pediatric emergency. He has worked internationally as a clinician in post-earthquake Haiti, Sierra Leone, during the Ebola outbreak with the organization, Partners in Health, and most recently with Rohingya refugees in Bangladesh. His work as a clown and nurse keep bringing him back to the central question: What keeps a person resilient?
This question helped him complete his Doctorate of Public Health at the Mailman School of Public Health, Columbia University. His dissertation focused on psychosocial support of expatriate Ebola aid workers in West Africa, with an emphasis on Narrative Medicine. He joined the faculty at UVA in 2016 with a joint appointment in the School of Nursing and Department of Drama. He currently serves as the director of the Compassionate Care Initiative where he is grateful to work with an inspiring team of ambassadors and staff who strive to foster resilience and compassion in all settings—personal, academic and clinical. You can follow him on Twitter @timcunninghamrn.