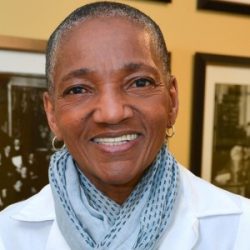 Thea James, MD, MBA
Vice President of Mission, Boston Medical Center
Associate Professor of Emergency Medicine at Boston Medical Center/Boston University Chobanian & Avedisian School of Medicine
Dr. James is an Associate Professor of Emergency Medicine at Boston Medical Center/Boston University Chobanian & Avedisian School of Medicine, president of the Boston Medical and Dental Staff, Vice President of Mission and Associate Chief Medical Officer. She is also the Director of the Boston Medical Center site of the Massachusetts Violence Intervention Advocacy Program (VIAP). Her diversity areas of interest include African American culture, LGBT, and women in medicine.
Dr. James has chaired and served on national committees within the Society for Academic Emergency Medicine (SAEM), served as a moderator, and has given public lectures and talks. She was appointed to the SAEM Women in Academic Emergency Medicine Task Force, is a member of the Boston University Chobanian & Avedisian School of Medicine Admissions Committee, and in 2009, Dr. James was appointed to the Massachusetts Board of Registration in Medicine, where she presently serves as chair of the Licensing Committee. Dr. James is the 2008 awardee of the Mulligan Award for public service.
Dr. James' passion is in Public Health both domestically and globally. She is a Supervising Medical Officer on the Boston Disaster Medical Assistance Team, under the Department of Health and Human Services, which has responded to several disasters in the United States and across the globe. She has deployed to post 9/11 in NYC, Hurricane Katrina in New Orleans in 2005, Bam, Iran after the earthquake in 2003, and Port-Au-Prince Haiti after the earthquake of 2010.
For twelve years Dr. James has traveled to Haiti, with colleagues and emergency medicine residents. A graduate of Georgetown University School of Medicine, James completed an emergency medicine residency at Boston City Hospital, where she was a chief resident.