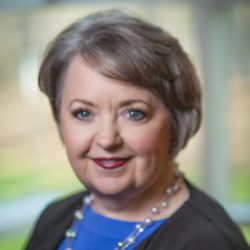 Sue Collier, MSN, RN, FABC
Chief Engagement Officer, Patient Centered Innovation, Inc
Sue Collier is the Chief Engagement Officer of Patient Centered Innovation, Inc., a servant-leader company that offers professional services designed to promote patient-, family-, and community-centered care. Prior to starting this company, Sue was Vice President, Innovation & Clinical Excellence with the North Carolina Healthcare Foundation and North Carolina Healthcare Association. She continues to support the association as they build the infrastructure for the Carolinas Healthcare Innovation Institute.
Her forty years of health care experience includes leadership and service from the bedside to the boardroom in clinical and non-clinical settings, executive teams, health systems and community-based initiatives, provider and patient-led programs, and local, state, and national collaboratives. Sue has held diverse roles such as Vice President, Clinical Quality for the American Hospital Association's Center for Health Innovation and the Health Research and Educational Trust, corporate executive for strategic planning and marketing in a comprehensive healthcare system in NC, and clinical leader in surgical-trauma ICUs. Sue has substantial experience guiding teams for federally- and privately-funded research projects on topics such as quality improvement, implementation science, health improvement, and patient engagement. Her experience includes leading teams responsible for developing and disseminating services and products such as toolkits, learning action collaboratives, case management resources, leadership development guides, and quality and patient safety improvement strategy. She is nationally recognized as a leader that promotes the inclusion of patients, families, residents, and communities in the planning, implementation, and evaluation of healthcare programs and services.
She is a TeamSTEPPS Master Trainer, a life-long learner, and a mentor for new and experienced servant leaders. Her passion for human-centered design is grounded in her commitment to accelerate the adoption of patient- and family-centered partnerships across the entire continuum of care.