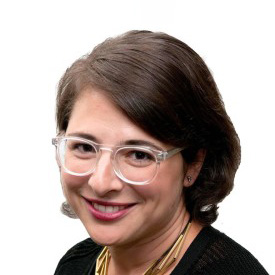 Events:
Sunday
1:45 pm - 3:00 pm
Schwartz Rounds® Everywhere: Introduction to Unit-Based Schwartz Rounds
Sunday
3:15 pm - 4:30 pm
Schwartz Rounds® Facilitator Support Group
Monday
11:15 am - 12:30 pm
Schwartz Rounds® at (Almost) 25: Schwartz Center Member Spotlight
Stephanie Adler Yuan, MS
Director of Education and Training, The Schwartz Center for Compassionate Healthcare
Stephanie oversees the Schwartz Center's training programs and educational initiatives, including all aspects of the Schwartz Rounds program. She is a writer and communications professional by training, and has worked in partnership with a range of organizations to improve employee communications practices and refine organizational messaging.
A graduate of the Program in Narrative Medicine at Columbia University, Stephanie has spoken at a number of conferences about relationships of care. She also teaches Narrative Medicine workshops for medical students and chaplains at NYU Lutheran Medical Center in Brooklyn, NY, and has worked with patient, student and caregiver groups at Memorial Sloan-Kettering Cancer Center, Maimonides Medical Center and Isabella Geriatric Center. In addition to her MS in narrative medicine from Columbia, Stephanie holds a bachelor's degree from Tufts University.
Stephanie, her husband and two children enjoy watching the seasons change in Prospect Park, clamming on Cape Cod and hunting down great bookshops wherever they go.