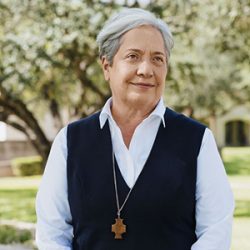 Sister Norma Pimentel
Executive Director, Catholic Charities of the Rio Grande Valley
Norma Pimentel is a Sister with the Missionaries of Jesus. As executive director of Catholic Charities of the Rio Grande Valley for over 12 years, she oversees the charitable arm of the Diocese of Brownsville, providing oversight of the different ministries & services in the areas of the Rio Grande Valley through emergency assistance, homelessness prevention, disaster relief, clinical counseling, pregnancy care, food program(s), and the Humanitarian Respite Center.
Sister Norma chairs the local Emergency Food and Shelter Program that distributes federal funds to local agencies providing assistance to the area's poor. She also serves as Co-Vicar of Religious, organizing different events for religious in the Diocese of Brownsville.
In addition, Sister Norma leads efforts in the community that respond to emergency needs and provide relief in times of disaster and crisis in the Valley. She was instrumental in quickly organizing community resources to respond to the surge of Central Americans seeking asylum in the United States and setting up the Humanitarian Respite Center at the Sacred Heart Church in McAllen, Texas. These efforts captured the world's attention, drawing news media from around the globe to the Rio Grande Valley to cover the plight of the countless and distressed refugee individuals and families, thereby compelling thousands from this country and others to contribute their time, talents, and treasures to serve and support the cause. A most special moment was captured on September 2015 via satellite broadcast to the Sacred Heart Catholic Church in which Pope Francis recognized Sr. Norma for her work with the immigrants and asked her to come forward so that he could see her. He thanked her for her humility and her efforts and encouraged her to continue.
In January 2015, Sister Norma received the Martin Luther King, Jr. "Keep the Dream Alive" Award from Catholic Charities USA and awards from the University of Texas–Pan American, the Texas Medical Association, and nomination for "Texan of the Year." Also, that same month she testified before the U.S. Commission on Civil Rights on the "State of Civil Rights in Immigration Detention Facilities." In March 2015, she spoke on "Women Upholding Human Dignity" at the United Nations. Most recently, Sister Norma was recognized and awarded the 2015 Rio Grande Valley's "Citizen of the Year" for her advocacy for the hundreds of immigrant/refugee families and individuals who make their way to the Respite Center every day fleeing the violence of their homelands and seeking a better life.
Previously, Sister Norma was one of the leaders directing Casa Oscar Romero—a shelter for Central Americans fleeing their war-torn countries. The shelter provided emergency relief and temporary housing for a vast amount of refugees.
Sister Norma Pimentel earned her Bachelor's degree in Fine Arts from Pan American University, a Master's degree in Theology from St. Mary's University in San Antonio, Texas, and a Master's degree in Counseling Psychology from Loyola University in Chicago, Illinois