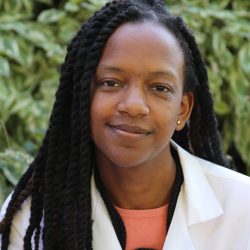 Events:
Tuesday
1:05 pm - 1:40 pm
Patient Story
Shekinah Elmore, MD, MPH
Resident, Harvard Radiation Oncology Program
Shekinah Nefreteri Cluff Elmore is a resident in the Harvard Radiation Oncology Program who is dedicated to pursuing equity and empathy in oncology care. She is a cancer survivor and has written about her experience treading the line between patient and provider in the Journal of the American Medical Association and the New England Journal of Medicine, focusing on themes of embracing compassionate care and coping with uncertainty. She earned a masters in public health from the Mailman School of Public Health at Columbia University and worked for the International Center for AIDS Care and Treatment Programs in sub-Saharan Africa prior to medical school. During her time at Harvard Medical School, she received a Fulbright grant to work with Partners in Health in Rwanda to explore the patient experience of cancer care. During residency, she has focused on understanding and improving radiotherapy access in resource-limited settings and promoting pathways for resident involvement in improving global radiotherapy. She has published on these themes in the Journal of Global Oncology and the International Journal of Radiation Oncology, Biology, and Physics. She lives in Dedham, Mass. with her husband, Adam Cluff, and their new baby, William Isaiah.