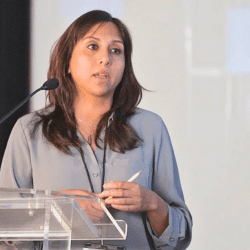 Shaista Kazmi
President & Founder, Apna Ghar LLC
Shaista Kazmi is a parent to three children and home care business owner based in West Bloomfield, specializing in providing culturally competent care for elders from India, Pakistan, Bangladesh as well as other communities of color.
Shaista started her business after having trouble getting consistent quality care for her father, who passed away in 2018, and then her mother-in-law (who passed away from COVID last year).
Shaista saw the immense need for culturally competent care in her community. Home care workers are "lifelines" for family members to the elders they're serving, and who are otherwise extremely isolated.
During the pandemic, Shaista saw demand for home care surge, even as workers were more scarce than ever, with many fearing for their own safety. Medicaid-funded agencies were reaching out to her company because they were struggling to meet their own demand, including those serving Black communities in Detroit, who were vastly underserved).
Even as a working parent and busy small business owner living through COVID, because her long-term caregiving responsibilities actually decreased during the pandemic, Shaista feels she's had more time and spaciousness than ever, now that she's no longer factoring in the needs of two other people — my mother in law and my father.