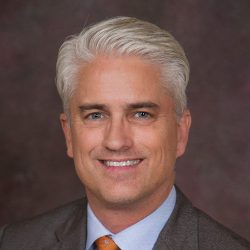 Scott Reiner
CEO, Adventist Health
A true visionary called to serve and lead, Scott Reiner is at the forefront of a healthcare revolution, ushering in a new era built upon a foundation of "Whole Person Health" that is transforming communities and organizations and improving the quality of life for everyone.
At the helm of Adventist Health—a faith-based, nonprofit integrated health system serving more than 80 communities in California, Hawaii, and Oregon—Reiner is the driving force behind a compassionate and highly skilled corps of 35,000 individuals, including more than 25,000 employees, 5,000 medical staff physicians, 1,200 allied health professionals and 3,500 volunteers—all in pursuit of one mission: "Living God's love by inspiring health, wholeness and hope."
Drawing upon his unique perspective and decades of service to Adventist Health—advancing from a bedside nurse to executive leader of a multi-billion-dollar health system—he is acutely aware of the challenges in our nation's ever-changing and continuously evolving healthcare system, and is uniquely capable of identifying the common ground that unites all stakeholders. An inspiring motivational leader with a realistic take on the current healthcare environment and an optimistic view of what is possible in the future, Reiner espouses a benevolent and thought-provoking philosophy that incorporates gratitude, forgiveness and reconciliation to create not only a health system dedicated to healing its patients, but also a transformative workplace that engages and nurtures the physical, emotional, spiritual and social aspects of every individual.