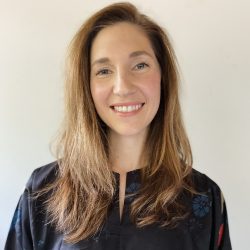 Sarah Sjöström, MSN, RN, ACNP-BC
Associate Chief Nursing Officer & VP of Ancillary Services, Hebrew Senior Life
Sarah Sjöström is the Associate Chief Nursing Officer at Hebrew SeniorLife's Hebrew Rehabilitation Center at NewBridge on the Charles in Dedham, Massachusetts. In this role, Sarah leads teams delivering direct patient care on the chronic hospital rehabilitiative services units, and outpatient care. She oversees nursing services, social services, recreation therapy and spiritual services, as well as laboratory, radiology and biomedical engineering services across both the Dedham and Boston Hebrew Rehabilitation Center campuses. Sarah is a member of the Senior Quality Leap Initiative, a North American long-term care quality consortium, where she is a representative on the Performance Improvement Advisory Committee. She is also a member of the Organization for Nurse Leaders where she is an active participant in the Government Affairs committee. Additionally, she has served as an adjunct faculty at the Institute for Healthcare Improvement providing educational content for such programs as the ECHO/IHI National Nursing Home COVID Action Network; and, through a scholarship from the John A. Hartford Foundation, she has recently completed the American Hospital Association Next Generation Leaders Fellowship to support implementation and advancement of the Age-Friendly Health System care model. She continues to support this work at Hebrew Rehabilitation Center as the co-chair of her organizations Age-Friendly Health System Committee.
About Hebrew Rehabilitation Center
Hebrew Rehabilitation Center is the long-term chronic care hospital of Hebrew SeniorLife, a Harvard Medical School affiliate. Hebrew SeniorLife is a national senior services and academic leader uniquely dedicated to investigating, understanding, and enhancing the experience of aging. Based in Boston, the nonprofit organization, founded in 1903, provides communities and health care for seniors, research into aging and education for geriatric care providers. For more information about Hebrew SeniorLife, visit http://www.hebrewseniorlife.org and our blog, or follow us on Facebook, Instagram, Twitter, and LinkedIn.