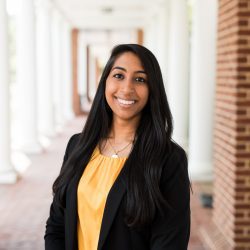 Samhita Nelamangala, MD, MBA
Resident Physician, Obstetrics and Gynecology, Vanderbilt University
Dr. Samhita Nelamangala is an Obstetrics and Gynecology Resident Physician at Vanderbilt University. She is passionate about improving reproductive health access and health literacy and hopes to dedicate her career to improving gender equity in healthcare leadership.
Dr. Nelamangala has been extensively involved in the American College of Obstetricians and Gynecologists (ACOG) with a formal appointment to the District IV Junior Fellow Council between 2019-2020. She continues to serve as a member on the ACOG District IV Health Disparities Committee.
Dr. Nelamangala graduated in May 2021 with the dual MD/MBA degree through the University of Virginia's School of Medicine and the Darden School of Business.  She earned her bachelor's degree in Leadership and Public Policy from the Frank Batten School of Leadership and Public Policy at the University of Virginia. She has been the recipient of several awards and honors including inductions to Phi Beta Kappa and Alpha Omega Alpha.