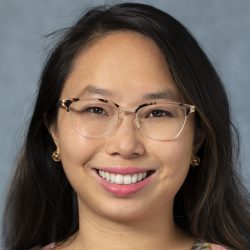 Events:
Abstracts
Wellness in a Time of Virtual Space: The Experience of Virtual Schwartz Rounds at Cedars-Sinai Medical Center
Sunday
11:30 am - 12:30 pm
Rev. Christina Shu, BCC
Lead Interfaith Chaplain, Cedars-Sinai Medical Center
Rev. Christina Shu is the Lead Interfaith Chaplain at Cedars-Sinai Medical Center, and the designated chaplain for the Supportive Care Medicine Team. She graduated from Harvard Divinity School in 2009 and did a Clinical Pastoral Education residency at UCLA Medical Center. She is a Board Certified Chaplain and an ordained Unitarian Universalist minister. Her current focus is to provide interfaith spiritual care to patients and families from diverse religious communities and to those who are not religious, are unaffiliated or are personally spiritual. Her specialties are palliative care patients and families experiencing grief and loss, end-of-life situations, and coping with long-term illness and hospitalization. She is a Schwartz Rounds facilitator and engaged in other staff support activities throughout the medical center.