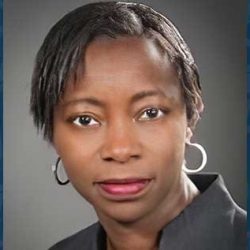 Events:
Panel Discussion
Supporting Resilience and Social Justice During a Pandemic
Monday
10:15 am - 11:15 am
Renee McLeod-Sordjan, DNP, APRN
Vice Dean, Chair and Professor, Hofstra Northwell School of Nursing and Physician Assistant Studies
Renee McLeod-Sordjan, DNP, APRN, CNL is an alumnus of Pace University. Presently, she is Professor and Vice Dean of the Hofstra-Northwell School of Nursing & PA Studies, Associate Professor at Zucker School of Medicine and is the Director of the Division of Medical Ethics at Northwell Health. She is a board certified family, palliative and acute care nurse practitioner specializing in HIV, gynecology and critical care. She was a member of the American Nurses Association' Professional Issues Panel Advisory Committee for the Code of Ethics. She is distinguished fellow of the National Academies of Practice, New York Academy of Medicine, Academy of Medical Educators and an active member of the American Academy of HIV Medicine, American Nurses Association, American Academy of Nurse Practitioners, American Society of Bioethics and Humanities, National Board of Respiratory Care, National Organization of Nurse Practitioner Faculty and Sigma Theta Tau.