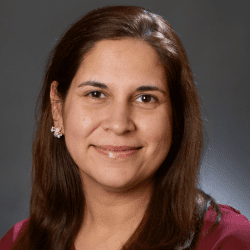 Pooja Bhalla, DNP, RN
Executive Director of Healthcare Services, Illumination Foundation
Dr. Pooja Bhalla joined Illumination Foundation in 2017 as Chief Operating Officer, overseeing all program operations, development, and implementation of quality wraparound services including healthcare and permanent housing. In January 2021, she assumed the role of Executive Director of Healthcare Services, a newly created position. Since her arrival at Illumination Foundation, Dr. Bhalla has stressed the importance of addressing the Social Determinants of Health, recognizing that our clients must be served across the entire continuum of care. Vulnerable clients are often not connected to the wider healthcare system and do not seek services, especially for mental health issues.
In March 2020, due in large part to Dr. Bhalla's leadership, Illumination Foundation was named the sole service provider for Orange County Health Care Agency to mitigate the spread of COVID-19 within the fragile population of those experiencing homelessness in Orange County.
Dr. Bhalla is a graduate of Simmons College of Nursing, where she received her BSN in 1997. She received her master's degree in leadership, health policy, and nursing administration from Northeastern University and also received her doctorate in nursing practice from Northeastern University, where her research focused on "Emerging Leaders and Homeless Health Care."
Dr. Bhalla was formerly the COO of Boston Health Care for the Homeless Program, the largest nonprofit health care organization for homeless individuals in the country. Beginning in 1997, she led an effort to establish shelter clinics throughout the city of Boston to bring health care to homeless individuals. Today the program operates more than 50 clinics throughout Boston.
Since 2002, Dr, Bhalla has been a member of the National Health Care for the Homeless Council, chair for the steering committee of the Clinicians Network, and a board member of the Council. A graduate of UCLA's Johnson & Johnson Health Care Executive Program, Dr. Bhalla has served on the faculty of Simmons College and Northeastern University and has published and lectured on the impact of homelessness on health and access to care for vulnerable populations.