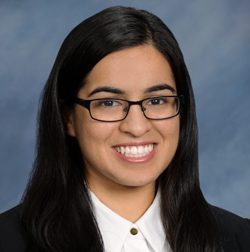 Events:
Sunday
3:45 pm - 4:00 pm
Burnout: Another Word for Suffering?
Nina Bihani
Fourth-Year Medical Student, Wayne State University School of Medicine
Nina Bihani is a fourth-year medical student at Wayne State University School of Medicine with pursuing a career in psychiatry. She completed her undergraduate studies at Wayne State University Irvin D. Reid Honors College, earning a B.S. in Biological Sciences and a B.A. in Communication Studies. During her time in medical school, she discovered a passion for working with vulnerable and marginalized populations. She was former Fundraising Director of the Robert R. Frank Student-Run Free Clinic, a full-service primary care clinic serving the uninsured, providing medical care, prescription medications, and laboratory services free-of-cost. She continues to volunteer there now, focusing on teaching clinical skills to younger students. She also volunteers as a Crisis Counselor for Crisis Text Line, a text-based suicide hotline, providing support for those in crisis. She has helped over two-hundred clients in finding coping skills to manage stressors in their lives. Her research interests are varied, including examining PTSD in veterans, examining the impact of interdisciplinary poverty simulation exercises on medical and nursing students, implementing texting services to decrease no-show rates in free clinics, improving transitional care for those with developmental disabilities, exploring the link between autism and catatonia, and finding ways in which to help medical students in developing resilience against burnout during their clinical years. She hopes to use this work to improve medical education throughout the country and prevent burnout within the medical field as students progress in their careers.