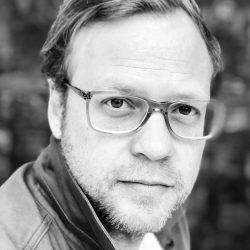 Michael Hebb
Author, "Let's Talk About Death (Over Dinner)"
Founder, Death Over Dinner
For the past 20 years Michael Hebb has been working to understand the secrets of human connection. His projects have turned into international movements and impacted millions. His second book "Let's Talk About Death" was published by Hachette/Da Capo  in the U.S., U.K., and Australia in October of 2018. Michael recently became a Partner at RoundGlass to further expand his efforts to impact global well-being.
Hebb is the founder of Deathoverdinner.org, Drugsoverdinner.org, EarthtoDinner.org, WomenTeachMen.com and The Living Wake. He currently serves as a board advisor at the Friedman School of Nutrition Science and Policy at Tufts, and in the recent past as senior advisor to Summit Series, Theo Chocolate, Learnist, Caffe Vita, CreativeLive, Architecture For Humanity, ONETASTE and Mosaic Voices Foundation.
In 1997 Hebb co-founded City Repair and Communitecture with architect Mark Lakeman, winning the AIA People's Choice Award for the Intersection Repair Project. In 1999 Hebb and Naomi Pomeroy co-founded Family Supper in Portland, a supper club that is credited with starting the pop-up restaurant movement. In the years following they opened the restaurants clarklewis and Gotham Bldg Tavern, garnering international acclaim.
After leaving Portland, Hebb built Convivium/One Pot, a creative agency that specialized in the ability to shift culture through the use of thoughtful food and discourse based gatherings. Convivium's client list includes: The Obama Foundation, Robert Wood Johnson Foundation, TEDMED, The World Economic Forum, Bill and Melinda Gates Foundation, Clinton Global Initiative, X Prize Foundation, and The Nature Conservancy.
Hebb is the founding creative director of The City Arts Festival, the founder of Night School @ The Sorrento Hotel, the founder of www.seder.today and the founding creative director at the Cloud Room. He served as a teaching fellow at the Graduate School of Communication at the University of Washington. His writings have appeared in GQ, Food and Wine, Food Arts, ARCADE, Seattle Magazine and City Arts. Hebb can often be found speaking at universities and conferences; here is his TEDMED talk.