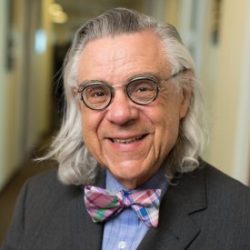 Michael Goldberg, MD
Scholar in Residence, The Schwartz Center for Compassionate Healthcare
Michael J. Goldberg, MD is the first Scholar-in-Residence at The Schwartz Center for Compassionate Healthcare.
Most of his professional career was in Boston where he was the Henry H. Banks, MD Distinguished Professor of Orthopaedics and Chairman of the Department of Orthopaedics at Tufts University School of Medicine. Most recently he served as Clinical Professor of Orthopaedic Surgery and Sports Medicine at the University of Washington School of Medicine and Seattle Children's Hospital.
Dr. Goldberg's major clinical interests are in the diagnosis and management of children with syndromes, complex birth defects, and skeletal dysplasias. He is a past president of the Pediatric Orthopaedic Society of North America, has held leadership positions in the American Academy of Pediatrics and has been recognized with honorary memberships in the pediatric orthopaedic societies of Brazil and Italy.
He has partnered with Hospital and other healthcare organization teams designing and implementing initiatives that reduce medical errors, improve workforce well-being, and create a culture of compassion. He is a Schwartz Rounds Facilitator at Seattle Children's.
Dr. Goldberg has served on the Board of Directors of The Home for Little Wanderers in Boston, the oldest and one of the largest child welfare agencies in the United States, and on the Board of Directors of Camp Korey in Mount Vernon, Washington, a camp for children with life altering medical conditions.