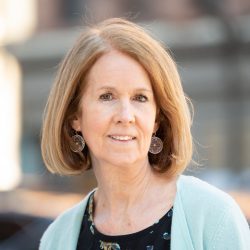 Maureen O'Reilly-Landry, PhD
Assistant Professor of Medical Psychology (in Psychiatry), Columbia University Medical Center (CUMC)
Dr. Maureen O'Reilly-Landry is a Clinical Psychologist and Interpersonal/Relational Psychoanalyst interested in applying psychoanalytic ideas to better elucidate problems in medical/health-related contexts. Having worked for many years in dialysis units, she currently works with people with chronic illnesses and organ transplants in her private practice. She has extensive training in couples therapy and her current interest is in medical trauma and in working with parents of medically ill children.
Co-Chair (with Eric Sherman, PsyD) of the Psychoanalysis and Healthcare Committee of Div. 39 (Psychoanalysis) of the American Psychological Association.
Editor of the book A Psychodynamic Understanding of Modern Medicine: Placing the person at the center of care. (London/New York: Radcliffe, 2012) in which psychoanalytically-oriented clinicians in medical settings discuss how they conceptualize and intervene with issues that arise in health-related environments.