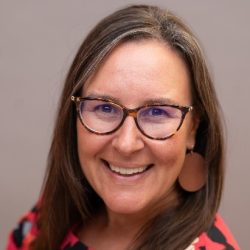 Maria Gonsalves Schimpf, MA, MT-BC
Denver Health RESTORE Director, Denver Health
Maria Gonsalves Schimpf, MA, MT-BC, Denver Health RESTORE Director, is a Board-Certified Music Therapist and Certified Analytical Music Therapist.  Following 20 years of clinical work in behavioral health, Maria established Denver Health & Hospital Authority's first system-wide peer support program, providing emotional support to the healthcare workforce, becoming its first Program Director in 2020. She provided vision and program development through the COVID-19 pandemic, the movement for racial justice, local gun violence, and the aftermath of the pandemic.
Under Maria's leadership, the system's peer support program increased its access points, services lines, and scope, creating a department known as Denver Health RESTORE (Resilience and Equity through Support and Training) with a mission of promoting and sustaining well-being of health professionals as well as individual, collective and system resilience.  Between March 2020 and May 2023, interdisciplinary RESTORE Peer Responders had 287,365 touches with staff.  Among those, Peer Responders provided emotional support and psychological first aid in 11,230 encounters.  Maria also uplifted Denver Health's Trauma- and Resilience-Informed Systems initiative, intended to support transformational systems change which improves healthcare services for individuals affected by trauma while addressing the impact of trauma on the workforce.
Maria's research and work have focused on the impact of trauma both internationally and domestically. She has been dedicated to anti-racism and anti-oppression work within therapy and healthcare across the last decade.  Maria's dedication to this work is supported by both the connection and care peer support team members provide one another as well as her experience parenting three children who insist they romp together in the natural world – on skis and snowboards while enveloped by mountains; or salt-water soaked in any lake or ocean they can reach.