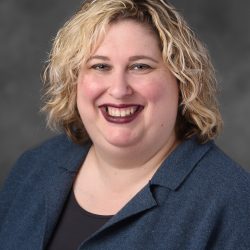 Mara Hoffert, PhD
Senior Instructional Design Consultant, Henry Ford Health System
Mara M. Hoffert, PhD, has aligned her career with cultivating socially responsible individuals who have a passion for humanistic, communicative interactions in the world. She fosters the development of empowered leaders who can meet the challenges of a rapidly changing global society, and who are characterized by curiosity, creativity, critical thinking and the ability to communicate and collaborate. Hoffert is an educational and instructional leader and has expansive experience in public, private and higher education as well as in the political arena and healthcare field.
Hoffert currently works in Medical Education Instruction and Design at the Henry Ford Health System in Detroit. She supports 50 accredited residency and fellowship programs. She excels at cultivating empowerment, participation, inclusion and partnerships with faculty, administrators and trainees to form institutional strategies and initiatives that are sustainable and effective. Her passion includes a focus on curricular design and application-based practice. Hoffert works in medical education at Henry Ford Hospital. Every day she has the honor to create and implement innovative curriculum, programs and tools that aid our physicians in all non-clinical aspects of patient care. Hoffert has presented on leadership, feedback, coaching and mentoring and curricular development and health and wellness.
Hoffert earned her PhD in Administrative Leadership and Education as well as her Specialist degree, central leadership and building leadership certifications from Eastern Michigan University. She received her Emotional Intelligence certification from Case Western University's Weatherhead School of Management, her certification in individual and group crisis intervention training from CISM, and participated in the LENS Coach Academy Training Program.