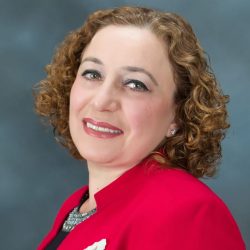 Lina Najib Kawar, PhD, RN, CNS
Nurse Scientist, Regional Nursing Research Program, Kaiser Permanente Southern California Patient Care Services
Dr. Lina Najib Kawar, PhD, RN, CNS, Nurse Scientist at Kaiser Permanente SCAL Regional Nursing Research Program. She received her BSN from the University of Jordan and completed her MSN from George Mason University in Virginia. After receiving her PhD from University of Rochester in New York, she accepted a post-doctoral fellowship at St Mary's College in Notre Dame, Indiana. She brings a wealth of knowledge and diverse experience. She has numerous publications and presentations, with a focus on immigrant-minority women, health, and culture. Her research expertise on immigrant-minority women is recognized nationally and internationally. Dr. Kawar's ground-breaking scholarly activities among Arab immigrant women was acknowledged by MDLinx internationally and Who's Who nationally. Recently, she received the Association of California Nurse Leader 2019 Excellence in Nursing Research Award.
She had been an RN for 30 years. Has comprehensive clinical experiences practicing as med surg oncology adult nursing among diverse populations. Dr. Kawar participated in starting the first hospice in Jordan, 1991-2. Also, introduced Sigma to Princess Muna Al-Hussein in 2008.
Was a faculty member for over 16 years at major national and international universities. Her teaching experiences include undergraduate and graduate level nursing courses and led the CNS program. She guides students' theses and or dissertations and mentored nurses through the research process including dissemination. These experiences assisted in establishing Dr. Kawar as a recognized scholar and educator.
Beside her well-rounded research expertise as PI and Co-I, she mentor and train nurses on the research process. She served on several national and international professional originations' committees, such as the Council for Advancement of Nursing Science, filling variety of leadership roles and positions. Served as an abstract and manuscript reviewer for both national and international conferences and journals. Due to her interest in culture she was invited to review manuscripts that are culturally based out of USA region.
Dr. Kawar is intensely committed to the health and well-being of patients and their families. Her current focus is directed toward advancing the health of KP members by investigating issues related to patient outcomes and high quality and safe nursing care in the acute care setting. Her passion is evident in her commitment to adhering and meeting the highest standards of professional and work ethics. Her knowledge and background make Dr. Kawar a scholar with substantial promise.