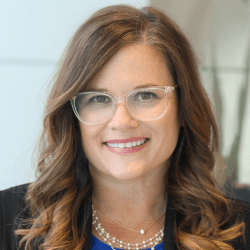 Events:
Workshop
Integrating Resilience, Ethics, and Traumatic Stress Relief to Cultivate a Culture of Well-being
Sunday
11:30 am - 12:30 pm
Leslie Leach, MSN, RN
Program Manager, Staff Support, Children's Health
Leslie Leach is Staff Support Program Manager with the Children's Health RISE (Resilience, Integrated Ethics, Staff Support, Engagement) team. She is responsible for managing a multidisciplinary cohort that provides 1:1 peer-to-peer support following clinical adverse events, utilizing an evidence-based curriculum that focuses on secondary trauma in healthcare. She has been a registered nurse for 22 years, with a background in neonatal intensive care unit (NICU), pediatric home health, insurance, and legal/risk management. She holds a Bachelor of Science in Nursing, a Bachelor of Science in Counseling/Rehabilitation Studies, a Master's degree in Nursing Administration, and is pursuing doctoral studies in Psychology specializing in Trauma Response/Disaster Relief.