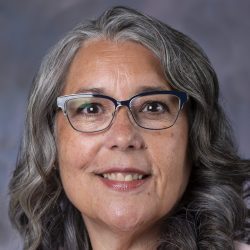 Events:
Panel Discussion
Discovery and Implementation of Stress First Aid
Monday
2:00 pm - 3:00 pm
Kristy deVries, MSW, LISWS
YOU Matter Program Manager, Nationwide Children's Hospital
Kristy deVries, MSW, LISW-S, is the manager of the YOU Matter Staff Support Program at Nationwide Children's Hospital where she started in January 2020. What a time to start a new job! The YOU Matter program provides support to NCH staff by providing Stress First Aid, crisis interventions, resiliency coaching, and many other therapeutic interventions allowing staff to experience a higher level of well-being. Prior to NCH, Kristy was the Ohio Assistant Executive Director at Specialized Alternatives for Families and Youth.  Having 30 years of work in child welfare and behavioral health, she has passion for making kids' and families' lives better. When Kristy is not working, she enjoys spending time gardening, doing yoga, reading, spending time with her adult children and 9 grandchildren.