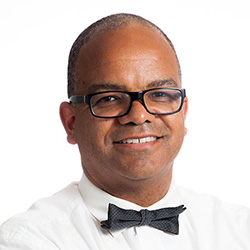 Events:
Monday
11:15 am - 12:30 pm
Caring for Patients Who Use Drugs: Challenging Stigma and Restoring Compassion
Kiame Mahaniah, MD
Chief Executive Officer, Lynn Community Health Center
Assistant Professor Family Medicine Department, Tufts University School of Medicine
After graduating from high school at the Lycée Prince de Liège in Kinshasa, the Democratic Republic of the Congo, Dr. Kiame Mahaniah had the great joy of obtaining his BA in Political Economy at Haverford College. After attending Jefferson Medical College in Philadelphia, he completed a family medicine residency at the University of Pittsburgh Medical Center. Dedicated to the care of vulnerable populations, he has spent his professional career working in federal qualified health centers. Mahaniah's twin clinical interests are integrating substance use disorder treatment into primary care and teaching. He believes that the fight for substance use disorders treatment is the civil rights fight of his time. He teaches in the family medicine department at Tufts University School of Medicine as well in the Tufts Student Service Scholar Program. He serves as the CEO of the Lynn Community Health Center and provides primary care on the complex addictions team. He is married to Dr. Katrin Schneck, a family physician who practices at the Greater Lawrence Family Health Center. Their lives center on their two children, a 21-year-old son and a 17-year-old daughter.