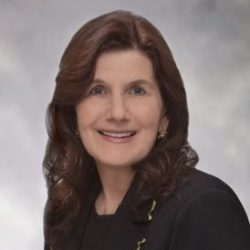 Kathy Scopin, BSN, PHN, RN
Member Experience Advisor - West, The Schwartz Center for Compassionate Healthcare
Based in California, Kathy trains and orients new Schwartz Center members, provides program support to current members, and conducts outreach in the Western Region. She has long recognized and is passionate about the importance of compassion in health care.
In the early years of her career, Kathy acquired a thorough knowledge in oncology and medical nursing. With the strength of this clinical focus, she made a natural move into home health nursing and patient care coordination, eventually becoming the director of a hospital-based home health agency.
Kathy spent 14 years as a senior sales executive with Per-Se Technologies/ATWORK Corporation, the standard in resource management software for many years. Her education, nursing background and health care business acumen helped her earn top producer recognition.
Prior to moving back to her nursing roots, Kathy worked for the Cerner Corporation, initially selling, then supporting the Cerner Clairvia clinically-driven workforce management and patient flow applications. With a desire to improve patient care, Kathy joined Press Ganey Associates as a patient experience advisor collaborating with client organizations to positively impact the patient experience and achieve sustainable results.
After attending the University of California, Davis, Kathy graduated from San Francisco State University with a bachelor of science degree in nursing and holds a public health nursing certificate. She is a member of The Greater San Francisco Chapter of the Association of California Nurse Leaders.
Kathy lives with her husband and their Alaskan Malamute dog, working from her Truckee home office in the Sierra Nevada mountains. She is a supporter of the Gene Upshaw Memorial Tahoe Forest Cancer Center, Soroptimist International of Truckee Donner, Sierra Senior Services and the Humane Society of Truckee Tahoe.