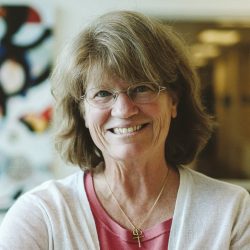 Kathryn B. Reid, PhD, RN, FNP-C, CNL
Coordinator, Research and EBP, Sentara Martha Jefferson Hospital
Associate Professor, University of Virginia School of Nursing
Dr. Reid is an Associate Professor at the University of Virginia School of Nursing (UVA SON). In addition to teaching BSN, MSN, and DNP students, Dr. Reid advises and mentors both nursing and medical doctoral students. Dr. Reid directs Continuing Education for the SON and partners with her counterpart in the SOM to co-lead the jointly accredited Interprofessional CE (IPCE) Collaborative. Dr. Reid also serves as the Coordinator for Research and Evidence-based Practice (EBP) at Sentara Martha Jefferson Hospital (SMJH), located in Charlottesville, Virginia. As a Family Nurse Practitioner (FNP), Dr. Reid leads a local travel health consultation clinic and also volunteers in a rural free clinic.
Dr. Reid earned her BSN, MSN, and FNP certificate from the University of Virginia, and earned her doctorate from Virginia Commonwealth University (VCU). Her past research focused on culturally-appropriate diabetes self-management education and approaches. Current research, scholarly, and service activities center on nurse and provider resilience, nurse workforce development, and issues impacting aging individuals.
With over 25 years experience in nursing education, Dr. Reid has received awards for excellence in teaching, innovative teaching strategies, and professional service, and has held administrative and leadership appointments within the SON. She was a 2005 Fellow in the AACN Leadership in Academic Nursing Program. Dr. Reid founded and directed the second-degree Masters-entry Clinical Nurse Leader (CNL) Program at UVA, and served as a consultant for second-degree entry CNL programs across the country. Dr. Reid was appointed to the American Association of Colleges of Nursing's national CNL Steering Committee from 2007-13. Dr. Reid serves in leadership roles in her professional organizations, and since 2013, has enjoyed bipartisan appointments by two Virginia Governors to serve the Commonwealth Council on Aging, serving most recently as the Vice-Chair.