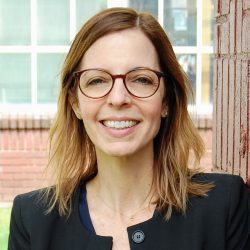 Events:
Keynotes & Conversations
Moving Towards Equitable Recovery for Communities
Monday
12:45 pm - 1:45 pm
Karla Silverman, RN, CNM, MS
Associate Director, Complex Care Delivery, Center for HealthCare Strategies
Karla Silverman, RN, CNM, MS is the associate director of complex care delivery at the Center for Health Care Strategies where she leads work focused on improving health and healthcare services for low-income communities, and communities who have historically been marginalized. Ms. Silverman began her career as a certified-nurse midwife at Community Healthcare Network, a federally qualified health center in New York City. Later, she served as clinical director at Planned Parenthood Hudson Peconic where she oversaw clinical operations and training for 12 health centers. At Primary Care Development Corporation, she led a team that created a nationally respected training and technical assistance program in care coordination and care management, and currently as an adjunct professor at the New York University School of Global Public Health, she teaches a graduate course on value-based healthcare. Ms. Silverman is a graduate of Columbia University School of Nursing, and Brown University.