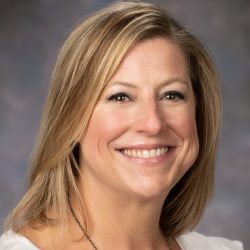 Events:
Panel Discussion
Discovery and Implementation of Stress First Aid
Monday
2:00 pm - 3:00 pm
Julie Davis, MSW, LISWS
Staff Support Clinician, YOU Matter Program, Nationwide Children's Hospital
Julie is a LISW-S and a graduate of The Ohio State University earning her Bachelor's degree in 2002 and her Master's degree in 2009.  She worked in child welfare for 12 years at SAFY.  In 2013 She joined Nationwide Children's Hospital and did intensive community based mental health for 5 years.  She started her current position as a contingent Staff Support worker in 2016 and transitioned into the role full time in 2018.  She supports the Emergency Department at Nationwide Children's Hospital and the Residents and Fellows.  In 2021, she developed a wellness program for the residents and fellows of NCH and meets weekly with them to practice and learn skills to boost resilience.  In her role of Staff Support Clinician she provides education throughout the hospital on Stress First Aid, boosting resiliency, and wellness ideas.  She is on the Critical Response Team and provides debriefs with staff after an adverse situation.  She is available to the staff to meet one on one and often hosts wellness activities for her teams such as dog therapy, aromatherapy, chair yoga and meditation.  She has specialized training in CBT, TFCBT, MI, DBT, Family Based Intensive Treatment, Crisis Intervention Critical Incident Stress Response, Mindfulness, Resiliency and Self-Care.  She recently completed a professional certificate in The Science of Happiness at Work.