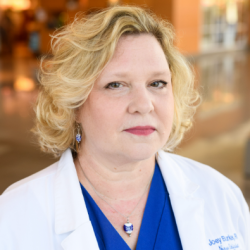 Joey Elizabeth Burke, MSN, MFA, RN
Nurse Ethicist, UK HealthCare, University of Kentucky
Joey Elizabeth Burke is a nurse ethicist in the Program for Bioethics at the University of Kentucky. She is a member of the clinical ethics consult team and frequently partners with hospital chaplains to make time and space for conversations that often start with the question, "What are you holding on to that is giving you heartburn?" Affectionately referred to as "Pepcid Rounds," these conversations lead to a deeper reflection about ethical issues faced by healthcare workers.
Joey has nineteen years of bedside nursing experience in a pediatric acute care setting. She served as nurse champion for Schwartz Rounds for 8 years at the Kentucky Children's Hospital, and now facilitates Schwartz Rounds in three locations across UK HealthCare.
Originally from Memphis Tennessee, Joey's education background includes a bachelor's degree in Psychology from Centre, College, ADN from Midway College, Master's in Nursing Education from Indiana Wesleyan University, and MFA in Creative Writing from Eastern Kentucky University. She lives along the Kentucky River with her family and an ever-present herd of deer.  Her dinosaur skills include: driving a manual transmission vehicle, baking a cake without a box, and letter writing. She is committed to awkward, relevant, and profound conversations.