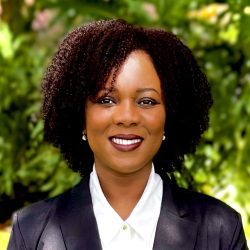 Jodi-Ann Edwards, MD
General Surgery Resident Physician & Research Fellow, SUNY Downstate Health Sciences University
Dr. Jodi-Ann Edwards was born in Jamaica and raised in South Florida. After earning her medical degree from the Florida Atlantic University Charles E. Schmidt College of Medicine (FAU CESCOM), she joined SUNY Downstate Health Sciences University as a General Surgery resident in Brooklyn, NY. Dr. Edwards completed three clinical years and is in her fourth research fellowship year. Her basic science research focused on the molecular biology of acute pancreatitis, and her clinical research focuses on surgical disease outcomes, quality improvement, and healthcare disparities.
Dr. Edwards is also a proud mother of her 19-year-old son, community advocate, mentor, and ally pursuing a career in academic surgery. Dr. Edwards is an Alpha Omega Alpha medical honor society member, 2021 Diversity in National Medical Fellowship (NMF) Clinical Trials Research Emerging Investigator alum, and FAU Distinguished Alumni Awardee. She helped create and direct the Surgery SEED (Summer Experience to Enhance Diversity) elective to recruit URiMs into surgery. She volunteers with various mentorship programs, Downstate's Health Professions Recruitment Exposure Program (HPREP), and nonprofit organizations dedicated to empowering the youth in NYC.
Dr. Edwards believes that physician workforce diversity, inclusion, and equity (DEI) and mentorship enhance medical education quality and improve overall patient care. Dr. Edwards credits her mentors for providing opportunities to represent Downstate locally and nationally. She also serves as the Department of Surgery's representative in various Downstate committees and projects. Dr. Edwards has recently received the SUNY Downstate Outstanding Service award and its Department of Surgery Outstanding Citizenship award. Dr. Edwards is recognized for combining scholarship with service to medical students, patients, and the community while advancing the principles of diversity, equity, inclusion, and compassionate care.