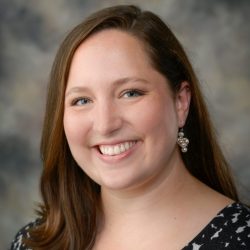 Events:
Workshop
Integrating Resilience, Ethics, and Traumatic Stress Relief to Cultivate a Culture of Well-being
Sunday
11:30 am - 12:30 pm
Jessica Roumillat, MA, LCSW, HEC-C
Program Manager, Integrated Ethics, Children's Health
Jessica Roumillat, MA, LCSW, HEC-C is the Program Manager for Integrated Ethics at Children's Health in Dallas, TX. Jessica holds master's degrees in social work and bioethics, and she was a clinical social worker in pediatric critical care, cardiology, and solid organ transplant prior to transitioning into her current role. Jessica's primary responsibilities as a RISE (Resilience, Integrated Ethics, Staff Support, Engagement) program leader include educating and managing a cohort of clinical and non-clinical team members from across the organization that volunteer their time to support staff as they navigate moral distress, clinical conflict, and caregiver grief. Additionally, Jessica leads the Children's Health Ethics Consultation Service, serves as a co-chair of the Children's Health Ethics Committee, and chairs the Children's Medical Center of Dallas Schwartz Center Rounds Planning Committee. Jessica is grateful for the opportunity to do such meaningful work alongside talented and compassionate colleagues, including a very special furry co-worker named Badger! Badger joined the Children's Health team through the organization's facility dog program in March of 2016 with Jessica as his primary handler. Over the past six years Badger has positively impacted the lives of countless patients and families, and through his work with RISE has made a remarkable difference in team member engagement with staff support.