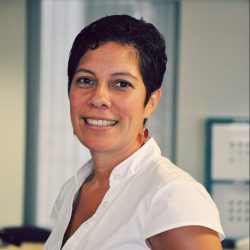 Jennifer Valenzuela, LICSW, MPH
Chief People & Equity Officer, Health Leads
Jennifer Valenzuela (MSW, MPH) is the Chief People and Equity officer for Health Leads, an innovation hub that pursues both national and local initiatives that address the deep societal roots of racial inequity that impact our health.  A non-profit founded in 1996, Health Leads helped set the standard for health systems and clinics looking to integrate programs that connect people to essential health resources like food, heat and housing. Today, Health Leads is focused on building partnerships and redesigning systems so every person, in every community, can live with health, well-being and dignity.
Jennifer brings over 20 years of experience building and supporting teams in the health care sector to her current role.  Jennifer previously oversaw Health Leads' clinical program implementation and integration at health systems and clinics nationwide — coaching and training of staff, establishing and promoting best practices for resource navigation, and codifying the program model. Prior to Health Leads, she was director of The Young Parents Program (YPP) at Boston Children's Hospital, a multidisciplinary clinic dedicated to working with teen mothers and fathers. As a licensed independent clinical social worker, Jennifer also worked in the emergency departments of Boston Children's Hospital and Brigham and Women's Hospital, providing psychiatric and social crisis intervention.
Jennifer has served as board president and general member for the Massachusetts Alliance on Teen Pregnancy Board of Directors and is alumni of the Blue Cross Blue Shield Foundation  Massachusetts Institute for Community Health Leadership program.   Currently, she is a member of the MassHealth Delivery System & Payment Reform Implementation Council and Vice President for Membership and Diversity with the National Association of Social Workers, Massachusetts Chapter.  She graduated from Portland State University with a BS in sociology and Boston University with an MSW in Clinical Social Work and MPH in Policy and Management.