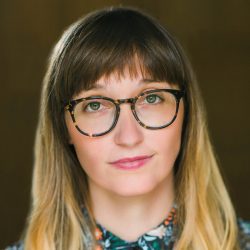 Events:
Workshop
The Power of the Voice: Storytelling in Medicine
Monday
3:15 pm - 4:15 pm
Emily Silverman, MD
Founder/Host, The Nocturnists
Volunteer Assistant Professor of Medicine, UCSF
Dr. Emily Silverman is an internal medicine physician, Volunteer Assistant Professor of Medicine at University of California, San Francisco (UCSF), and founder/host of The Nocturnists, an independent medical storytelling community that has uplifted the voices of over 350 clinicians through its sold-out live performances and acclaimed podcast. Her writing has been supported by MacDowell and published in The New York Times, The Virginia Quarterly Review, JAMA, CHEST, and more. She lives in San Francisco with her husband, daughter, and many plants.