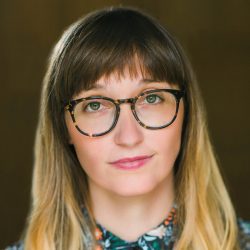 Emily Silverman, MD
Creator/Host, The Nocturnists
Assistant Volunteer Professor of Medicine, UCSF
Emily Silverman, MD is an internal medicine physician at UCSF, writer, and creator/host of The Nocturnists, an award-winning medical storytelling organization that has uplifted the voices of 450+ healthcare workers since 2016 through its podcast and sold-out live performances.
The Nocturnists' work has been presented on CBS This Morning and NPR's Morning Edition, and at Pop Up Magazine and South By Southwest (SXSW). In 2020, its "Stories from a Pandemic" documentary podcast series was acquired by the U.S. Library of Congress for historic preservation. The Nocturnists has been honored by the Webby Awards, Anthem Awards, Ambie Awards, and more.
Dr. Silverman's writing has been supported by MacDowell and published in The New York Times, Virginia Quarterly Review, JAMA, CHEST, and McSweeneys. In 2020 she was on the Yerba Buena Center for the Arts 100 List, which celebrates creative changemakers whose work builds sustainable, equitable, and regenerative communities. She was the 2020 Hellman Artist-in-Residence at the UCSF Memory and Aging Center and served on the COVID Crisis Group which recently released the book, "Lessons from the COVID war." In 2023, she joined Remo Health as a creative consultant.
Dr. Silverman is a dynamic speaker, and has inspired audiences at hospitals, clinics, and medical schools nationwide. Her engagements illustrate the power of storytelling to impact healthcare delivery, shape medical culture, ignite creativity, and catalyze individual and institutional change. She lives in San Francisco with her husband and daughter.