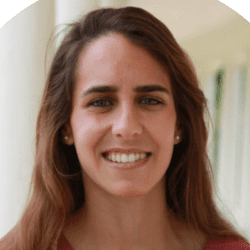 Elisa Enriquez Hesles
MD-PhD Student, Biochemistry & Molecular Genetics, School of Medicine, University of Virginia
Elisa Enriquez Hesles is a MD-PhD student at the University of Virginia (UVA). Ultimately, Elisa's goal is to stand as a leader at the intersection of science and medicine.
Elisa is currently completing her third year of graduate school in the Biochemistry and Molecular Genetics (BMG) Department at UVA. During her graduate research, she will continue to generate new knowledge on how specific nutrients impact the aging of cells.
During her time at UVA, her goal is to become a physician-scientist able to lead diverse teams that converge findings and apply these findings from 'bench to bedside to population.' To this end, and in parallel to her training in science, she is also committed to becoming an effective leader. Inspired by Dr. Lili Powell who teaches Leading with Presence in Healthcare at UVA, Elisa continues exploring leadership theory as well as honing her verbal abilities in preparation for this role. By actively making this part of her career, Elisa will intentionally broaden her education, which will allow her to share her science confidently and effectively across disciplines. This approach to her education will help her establish common ground between diverse teams as well as provide understanding on how to translate her work to reach the clinic and the broader community.