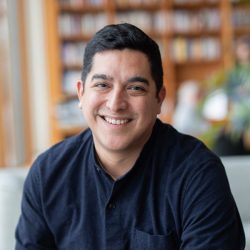 Events:
Monday
11:15 am - 12:30 pm
Creating Space for Our Stories: Community Projects of Meaningful Conversation
Eddie Gonzalez
Engagement Manager, Civil Conversations Project, On Being Project
Eddie Gonzalez has a keen interest in the dance between inner and outer life, the stories we tell ourselves and the stories we tell each other. He joins the On Being Project after a decade of work around stories and spirituality in healthcare, most recently at StoryCorps, where he worked across the United States and Canada to help healthcare organizations create space for reflective conversations through community-based storytelling and audio recording projects. Before StoryCorps he was a hospice chaplain and received his clinical pastoral education while earning an MFA in creative writing. Gonzalez believes deeply in the power of collaboration and is based in New York City.