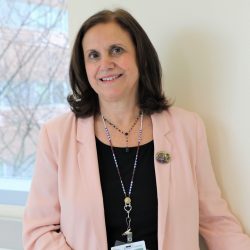 Donna Leno Gordon, RN, MS, Executive MPA, Integrative Nurse Coach – Board Certified
Integrative Nurse Coach, NYC Health + Hospitals/Kings County
Donna Leno Gordon has a broad portfolio of nursing leadership experience in healthcare managing programs and projects as a Senior Nursing Executive in behavioral health, acute care, ambulatory and palliative care services. Ms. Leno Gordon's most recent work has been as an Integrative Holistic Nurse Coach providing Wellness services for staff throughout the pandemic.
Throughout her career, Ms. Leno Gordon led programs that have reduced patient and staff injuries, improved patient and staff engagement, and her team established the first Palliative Care Program in NYC Health + Hospitals that was deployed system-wide to all 11 acute care facilities earning the Circle of Life citation award in 2010. In 2012 Ms. Leno Gordon received the City of New York Sloan Public Service Award for Healthcare for this work.
Currently, in her practice, Ms. Leno Gordon leads Wellness Programs at NYC Health + Hospitals/Kings County where she works with interdisciplinary staff who have been emotionally or psychologically affected by traumatizing events in the workplace to restore resilience and well-being.