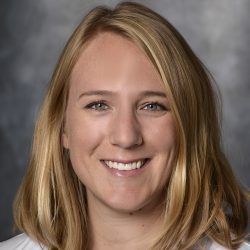 Events:
Abstracts
Wellness in a Time of Virtual Space: The Experience of Virtual Schwartz Rounds at Cedars-Sinai Medical Center
Sunday
11:30 am - 12:30 pm
Dawn Robertson, LCSW, ACHP-SW
Palliative Care Social Worker, Cedars-Sinai
Dawn Robertson, LCSW, ACHP-SW, is a palliative care social worker on the Cedars-Sinai Supportive Care Medicine team. She is a licensed clinical social worker in California.  She is a Schwartz Rounds facilitator and an active member of the Cedars-Sinai Schwartz Rounds committee.
Dawn earned a Master of Social Welfare (MSW) with a specialization in healthcare from UCLA in 2009. She completed post-MSW certification in palliative care and is credentialed by the National Association of Social Workers (NASW) as an Advanced Certified Hospice and Palliative Social Worker (ACHP-SW). She participates as teaching faculty in the Cedars-Sinai Hospice & Palliative Medicine fellowship.