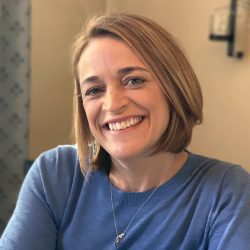 Dawn Damiano
Director of Employee Wellness, Hebrew SeniorLife
Dawn Damiano is the director of employee wellness at Hebrew SeniorLife, where she has worked in a variety of wellness-related roles since 1993. As director, she develops and executes a wide range of programming to support the physical, mental, and social well-being of staff, and serves as a champion for increasing access to wellness resources for a diverse group of 2,400 employees.
Dawn has supported partnerships with Virgin Pulse, unifying wellness activities onto one platform and decreasing individual medical premium costs; and with Ginger, to implement an on-demand behavioral health system that incorporates coaching, therapy, psychiatry, and resources for all employees and their dependents. She also adapted the Stress First Aid program to support the needs of all employees and has created wellness and fitness offerings available both in-person and virtually across six campuses. Dawn also mentors future Registered Dietitians through Hebrew Rehabilitation Center's ACEND-accredited internship.
In 2020 Hebrew SeniorLife was recognized as one of the Healthiest Employers in Massachusetts, and in 2023 a food insecurity program created by Dawn was the winner of a New England Employee Benefits Council Best Practice Award.
Dawn received her Bachelor of Science in Exercise Physiology and Health and Fitness Management from Springfield College and is a personal trainer and wellness coach certified by the American Council on Exercise and the American College of Sports Medicine. Dawn's enthusiasm is contagious, and she challenges everyone she meets to become more passionate about incorporating wellness into their lives.