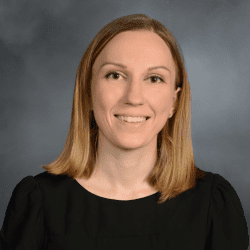 Events:
Panel Discussion
Building an Interdisciplinary Peer Support Network
Monday
3:15 pm - 4:15 pm
Christie Lech, MD, MHPE
Assistant Residency Director, Assistant Professor, Department of Emergency Medicine, Weill Cornell Medicine
Christie Lech completed her residency training in emergency medicine at the Mount Sinai Hospital in New York City. She also served as chief resident during her final year of residency training. After graduation she worked a faculty in the Department of Emergency at New York University – Tisch Hospital and Bellevue Hospital Center. During her time at NYU, she developed an understanding of curriculum development, assessment, education theory, and organizational analysis through completion of a Masters in Health Professions Education through NYU and the University of Maastricht. Her thesis focused on the creation of an interdisciplinary debriefing and peer support program in the department of emergency medicine. This was expanded to also include the pediatric emergency department. She also served as assistant residency director and led the departmental Program Evaluation Committee, Clinical Competency Committee, and the resident wellness committee. In addition, she served as interim program director at NYU, before joining Weill Cornell Medicine last year. At Cornell, she worked wellness leaders to develop a peer support program to train faculty, residents, and other midlevel providers as peer supporters for staff who have experienced challenging clinical events/cases.