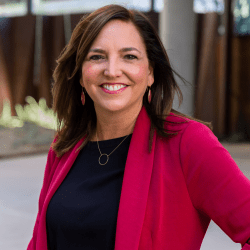 Events:
Panel Discussion
Changing the Culture of Medical Residency to One That Promotes Wellness and Resiliency as a Priority, with Specific Interventions Implemented During a Pandemic
Sunday
2:00 pm - 3:00 pm
Cheryl O'Malley, MD, MACP, FHM
Associate Dean, Graduate Medical Education and Professor, Department of Internal Medicine, The University of Arizona College of Medicine – Phoenix
Dr. O'Malley is Associate Dean, Graduate Medical Education and designated institutional official at the University of Arizona College of Medicine-Phoenix and Professor of Medicine.  She has also served in numerous other significant leadership roles including program director for the Internal Medicine residency for 11 years. Her excellence as a leader and around educational innovations has been recognized with election and appointment to numerous national roles and awards.
Throughout all her roles, creativity and connection drive her and create possibilities.  In 2018, her mixed media art piece, "Hearts in Medicine", exemplified this and was recognized as part of the National Academy of Medicine Expressions in Clinician Well-being.  She has continued to focus on wellness, continuous quality improvement, and compassion speaking on these topics nationally and completing Stanford's Applied Compassion Training in 2021.