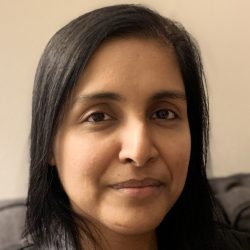 Charanya Sivaramakrishnan, MD
Medical Director, Intensive Care Unit, PeaceHealth Southwest Medical Center
Dr Charanya Sivaramakrishnan is a board certified critical care physician who is currently serving as the Medical Director of the Intensive Care Unit at PeaceHealth Southwest Medical Center at Vancouver, Washington. Prior to this she was the Medical Director of the Intensive Care Unit at Trios Health in Kennewick, Washington.
Apart from being a well regarded physician leader with administrative experience, she also has an active interest in research, academics and community outreach.
She has authored book chapters and articles in the field of critical care medicine  and was core faculty and sub specialty Director of the Internal Medicine Residency Program at Trios Health.
Dr Sivaramakrishnan has been at the forefront of the COVID-19 pandemic and is a strong believer in practicing medicine with equal amount of passion and compassion and continues to strive every day to support our community in the midst of this pandemic.