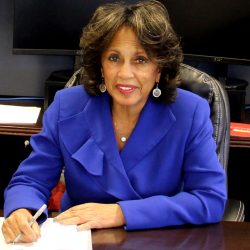 Beverly Malone, PhD, RN, FAAN
President & Chief Executive Officer, National League for Nursing
Health care leader. Accomplished innovator. Nursing champion.
Under Dr. Malone's leadership, the NLN has advanced the science of nursing education by promoting greater collaboration among stakeholders, increasing diversity in nursing and nursing education, and advancing excellence in care for patients. Dr. Malone's distinguished career has mixed policy, education, administration, and clinical practice, including as federal deputy assistant secretary for health under President Bill Clinton.
As a reviewer, she contributed to the groundbreaking IOM report, "The Future of Nursing: Leading Change, Advancing Health," and served on the Minority Health Federal Advisory Committee. She serves on the Kaiser Family Foundation Board of Directors and the Institute for Healthcare Improvement Board of Directors and has received more than 20 honorary doctorates.
In 2022 Dr. Malone was featured as one of 25 outstanding women for Women's History Month by Diverse: Issues in Higher Education. Additionally, Dr. Malone was honored as part of the 2022 STATUS List, the most definitive accounting of leaders and influencers in the life sciences as well as one of 12 influential persons in Health, Science and Innovation by Morehouse School of Medicine.
2021, Modern Healthcare honored her with a Top 25 Women Leaders' Luminary Award, named her to the inaugural list of five Minority Healthcare Luminaries and included her amongst the100 most influential people in healthcare. She was previously honored on their list of Top 25 Women in Healthcare. Additionally, the International Society of Psychiatric-Mental Health Nurses (ISPN) honored her with the Living Legends Award.
Similarly, 2020 Dr. Malone was ranked No. 5 in Modern Healthcare's Top 100 Most Influential People, received the University of Cincinnati's Linda Bates Parker Legend Award, named an Honorary Member of the Philippine Nurses Association of America and presented with a special award of distinction by the NLN Board of Governors. Also, she was bestowed the Gail L. Warden Leadership Excellence Award by The National Center for Healthcare Leadership and designated by the American Academy of Nursing with their Highest Nursing Honor, "Living Legend."
The Alpha Omega Chapter of Sigma Theta Tau and the College of Nursing of Adelphi University, Long Island honored Dr. Malone with the Lifetime Achievement Award in 2019. She was presented with a citation from the American Psychological Association for her outstanding leadership in advancing excellence in healthcare for the nation and global community, was named one of the Top 25 Minority Executives in Healthcare by Modern Healthcare magazine and accepted the Nursing Outlook Excellence in Research Award in 2018.
Elected two terms as president of the American Nurses Association (ANA) representing 180,000 nurses, and served as the first US and African American general secretary of the United Kingdom (UK) Royal College of Nursing (RCN) representing 400,000 nurses. A member of the UK as well as US delegation to the World Health Assembly, she was also vice chair of the Brussels-based European Federation of Nurses Association. Furthermore, she has the distinguished honor of her portrait being displayed at the National Portrait Gallery in London, United Kingdom.