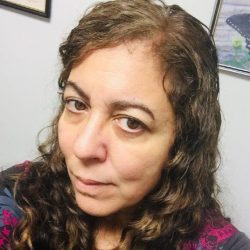 Ana Torres Thornton, LCSW
Clinical Social Worker/Therapist, Texas Children's Pediatrics Gulfton-A Community Cares Practice
Ana Torres Thornton, LCSW, is a clinical social worker with 28 years of experience working with immigrant families and underserved communities, and has developed expertise in supporting immigrant families with a variety of issues, which include migration trauma, parent-child conflicts arising from reunification, integrating into a new culture, domestic violence, child abuse, as well as educational problems faced by migrant families.
Ms. Thornton migrated at age 12 with her immediate family from a small town in Puerto Rico, to Perth Amboy, NJ, which was, and remains, a community of immigrants from all parts of the world. Perth Amboy is also home to large number of immigrants from Latin America, which informed Ms. Thornton's view of herself as an immigrant.  Ms. Thornton graduated from Rutgers University New Brunswick with a Bachelor of Arts in Psychology and a minor in Mathematics.
Ms. Thornton's life work began in Boston Massachusetts, where, for almost seven years, she served a community with large numbers of immigrants at Southern Jamaica Plain Health Center, a federally qualified health center affiliated with Brigham and Women's Hospital, through a program called the Center for Perinatal and Family Health.  She also served the community of Chelsea, Massachusetts and surrounding towns, as a substance abuse educator and counselor, as well as intake counselor for a batterer intervention program affiliated with Baycove Human Services.
Ms. Thornton moved to the Houston metro area in 2002 and worked for a combined five years at DePelchin Children's Center, as an access specialist and a case manager for the Cultural Adaptation Initiative, to assess the effectiveness of cultural adaptations to trauma focused cognitive behavioral therapy.
It was at Depelchin Children's Center that Ms. Thornton became acquainted, and fell in love with, the Gulfton community in Houston. From there, she collaborated with two psychologists in the initial translation of the Strengthening Family Coping Resources treatment manual into Spanish. Ms. Thornton completed her Masters in Social Work in May 2011, and has enjoyed a fruitful tenure both as a generalist social worker and a therapist at Texas Children's Pediatrics Gulfton. Ms. Thornton loves serving the Gulfton community through Texas Children's Pediatrics and knowing that the work of the clinic contributes to the health of this community.