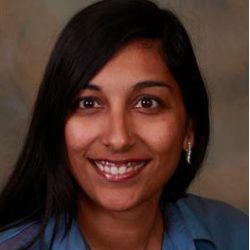 Ami Doshi, MD
Clinical Professor of Pediatrics, Vice Chair, Faculty Development, Pediatrics Wellness Director, Department of Pediatrics, UC San Diego and Rady Children's Hospital, San Diego
Dr. Ami Doshi is a pediatric hospitalist and palliative medicine physician at Rady Children's Hospital-San Diego. Diego. She was the inaugural Galinson Family Endowed Chair in Palliative Care. She is a clinical professor of pediatrics at UC San Diego School of Medicine in the Division of Pediatric Hospital Medicine. She serves as Vice Chair for Faculty Development and the Well-Being Director for the Department of Pediatrics.
Dr. Doshi is actively involved with the education and mentorship of pediatric fellows and residents from UC San Diego and the Navy Medical Center San Diego as well UC San Diego medical students, and also enjoys mentoring faculty. Her academic interests are in palliative medicine, communication, and physician well-being. Her research focuses on palliative care education, and she has created and disseminated curricula for trainees and attending physicians to foster primary palliative care and communication skills, and to promote compassion in medical students.
After earning her undergraduate degree in psychobiology at the University of Southern California, Dr. Doshi completed her medical training at University of California, Irvine and continued her pediatric residency at UC San Diego, where she completed her pediatric hospital medicine fellowship. She completed her palliative medicine training through Harvard School of Medicine's Program in Palliative Care Education and Practice.
She is motivated by supporting patients, colleagues and trainees in growing, thriving, and fulfilling their potential and harnessing the power of compassionate communication to enhance our relationships.