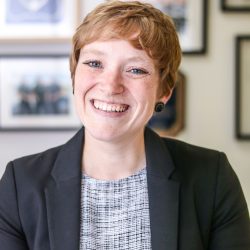 Events:
Tuesday
11:20 am - 12:35 pm
PAARI and the New Role of Police
Allie Hunter McDade
Executive Director, Police Assisted Addiction & Recovery Initiative (PAARI)
In August 2016, Allie Hunter McDade became the founding executive director of the Police Assisted Addiction & Recovery Initiative (PAARI), a movement of law enforcement agencies that believe in treatment over arrest. As executive director, Hunter McDade is responsible for program expansion and effectiveness as well as organizational growth and sustainability. To date, Hunter McDade has helped launch more than 300 non-arrest community policing programs nationwide. Hunter McDade came to PAARI with over 12 years of experience in nonprofit management and leadership. Hunter McDade holds a bachelor's degree in politics and international relations from Ursinus College and a master's degree in international development from Ohio University, where she focused on community health and behavior change. She also earned a certificate from the Institute for Nonprofit Practice at Boston University's Questrom School of Business. In spring 2017, Hunter McDade received a Nonprofit Excellence Award and was named young professional of the year by the Massachusetts Nonprofit Network. In fall 2018, Hunter McDade also accepted an AmeriCorps Excellence Award for Best New Program for PAARI's first-of-its-kind program to embed AmeriCorps members in police departments to address the opioid epidemic. Hunter McDade is based in Boston, Mass., and spends much of her time traveling around the country to support current and prospective law enforcement partners. Like many, Hunter McDade has been personally touched by the disease of addiction and has a close family member who is in recovery from an opioid use disorder.