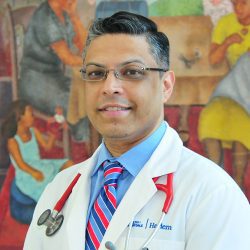 Alexie Puran, MD, MS, FAAP, CPXP
Pediatric Emergency Medicine Physician, NYC Health + Hospitals/ Harlem
Physician Affiliate Group of New York (PAGNY)
Assistant Professor of Clinical Pediatrics, Columbia University's Vagelos College of Physicians and Surgeons
Dr. Alexie Puran is a Pediatric Emergency Medicine Physician employed with the Physicians Affiliated Group of New York (PAGNY) and has been working at NYC Health + Hospitals/ Harlem since 2015. He previously served as the Chief of Pediatric Emergency Medicine and Associate Director of the Emergency Department at NYC Health + Hospitals/ Harlem. Dr. Puran is an Assistant Professor of Clinical Pediatrics at Columbia University's Vagelos College of Physicians and Surgeons.
Dr. Puran is board certified in both Pediatrics and Pediatric Emergency Medicine. He earned his Doctor of Medicine at Albert Einstein College of Medicine after graduating from Stony Brook University with a double major in pharmacology and political science. He also earned a Master's in Business Administration from the University of Rochester. Dr. Puran completed a residency in Pediatrics at Jacobi Medical Center and a fellowship in Pediatric Emergency Medicine at Strong Memorial Hospital.
Dr. Puran is passionate about improving the patient experience as well as the physician experience. He launched a Patient Family Advisory Council at NYC Health + Hospitals/ Harlem and served as Chair for the council. Dr. Puran later held a position as the Patient Physician Experience Officer at NYC Health + Hospitals/ Harlem. He has also earned the degree of a Certified Patient Experience Professional (CPXP). Dr. Puran has been selected as a recipient for the 2020 Patient Experience Grant from the Beryl Institute with his study, Impact of Art on the Human Experience in the Pediatric Emergency Department.
Dr. Puran serves as the Director of Harlem Reads, an innovative program which promotes literacy for patients who are cared for in the Pediatric Emergency Department. Dr. Puran was instrumental in establishing a collaboration with RxART which resulted in 2 completed art installation projects in the Pediatric Emergency Department with the Keith Haring Foundation and with well-known artist, Derrick Adams. Dr. Puran has presented at the Institute of Healthcare Improvement Scientific Symposium on his project, AcceleratED Care which resulted in decreasing the number of patients left without being seen in the Pediatric Emergency Department.
Dr. Puran conducts clinical research on improving the quality of care for children with asthma. This research holds a special place in Dr. Puran's heart, as he suffered with asthma as a child and received care at NYC Health + Hospitals/ Woodhull. He has been awarded a grant from TD Bank for his new campaign called Attack Asthma in Kids which is to be launched in 2021.
Dr. Puran has volunteered with the organization, Operation Smile serving as a Pediatrician on medical teams in 18 previous missions in Peru, Honduras, China, Guatemala, Philippines, Brazil, Vietnam, Mexico and Ghana. He has also taught Pediatric Emergency Medicine in India in New Delhi and Kolkata.