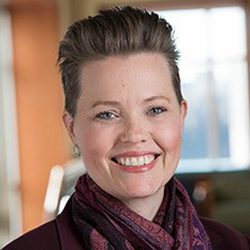 Events:
Panel Discussion
Hidden in Plain Sight: How Double-duty Caregiving (Professional and Personal Family Caregiving) Impacts Clinicians/Caregivers, Teams, Burnout, and Care
Monday
11:15 am - 12:30 pm
Ginger Hanson, PhD, MS
Assistant Professor, Johns Hopkins School of Nursing
Ginger is engaged in research on quantitative methods, occupation health psychology, work-life integration, and workplace violence. She earned her PhD in systems science: psychology and her master's in applied industrial/organizational psychology. Her dissertation used a multi-level design to examine both the supervisor and employee-level factors related to family-supportive supervision and work-family conflict. She's currently partnering on research to help healthcare organization understand how to better support their nurses who are also unpaid family caregivers.