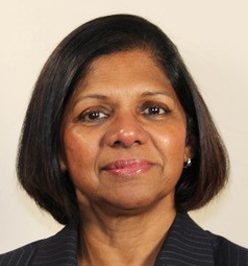 Events:
Panel Discussion
Hidden in Plain Sight: How Double-duty Caregiving (Professional and Personal Family Caregiving) Impacts Clinicians/Caregivers, Teams, Burnout, and Care
Monday
11:15 am - 12:30 pm
Agnes Therady, PhD, MSN, MBA, FACHE, NEA-BC, RN
Vice-President & Chief Nursing Officer, Franciscan Health
As a Chief Nurse Executive in various health systems, Agnes has led strategic initiatives to promote the unique responsibility of nurses for compassionate patient care while continuously elevating the professional practice of nursing. She's proficient in clinical operations, quality, patient safety, patient experience, organizational and leadership development for hospitals and integrated healthcare systems. She's been at Franciscan Health for two years where she works to ensure high quality, multi-disciplinary patient and family-centered care. Her focus has expanded to include the health and wellbeing of caregivers: she leads the strategic goal for "Joy at Work" using the IHI model.